They Blow Up So Quickly These Days
The following photos were taken at a recent graduation ceremony at a Gaza City kindergarten (hat tip:Challah)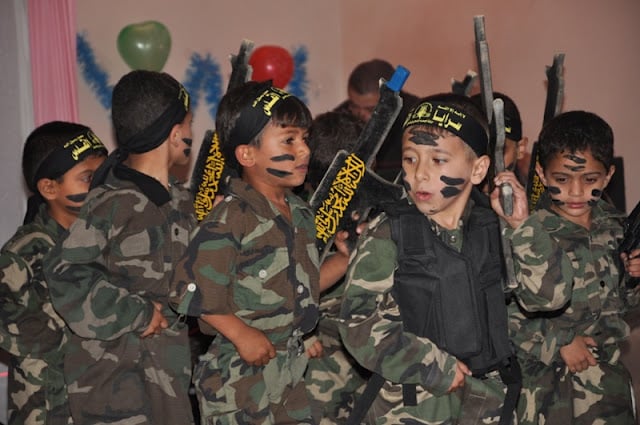 As usual, the auto-translation is not great, but I think we can get a sense from it, coupled with these photos, just how depraved the whole thing is.
Meeting after the end of the ceremony with Director kindergarten, where she said: "The duty of us in the kindergartens that educate our children in Mrahlthm educational as well as planting the first building blocks of life, education, the love of the resistance and the Palestine and Jerusalem, in order to know what Palestine and who is its enemy and its importance and what is their role and their role as well as the future."

She added: "We are in every year of graduation ceremonies kindergarten, we focus on the children to represent the role of struggling and resistance in the way of Allah, in order to establish this path afternoon, and grow up to love the resistance, and to have a prominent role in the life and serve the cause of Palestine, and its project Holy Jihad, as well as to graduate them leaders and fighters to defend the soil of Palestine, and sanctified. "

The child "Hamza" a people of martyrs of the resistance, and who graduated this year from kindergarten and from the same kindergarten, he led a military groups for children in the representation of the role of resistance in the graduation ceremony, said the reporter, "media war": "When I grow up I will be working in the Islamic Jihad and Al-Quds Brigades , and resist the Zionist enemy and fired the rockets it, until I die a martyr, and I go to heaven when the Pope. " He added, "Hamza", who wears a military uniform and illustrates his forehead League of "Al-Quds Brigades," and carrying a weapon made ​​of wood: I love the resistance and the martyrs and Palestine, and when I want to blow the largest current Zionists in the process of martyrdom Bbas and kill them."
The kindergarden is affiliated with Islamic Jihad, but don't delude yourselves into thinking it's them alone.
Our "peace partners" of the PA are just as guilty.