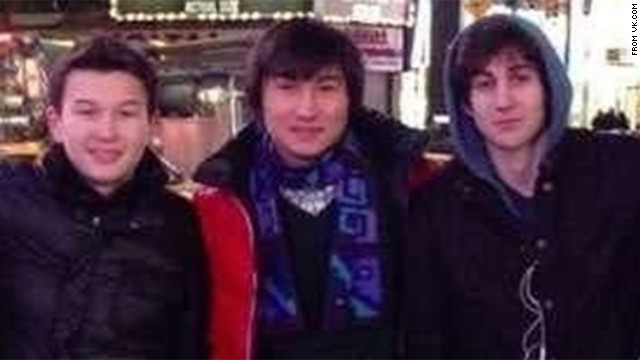 Where is the Media ? Burying the fact that the jihadist SAY ITS ISLAM and the fact that the QURAN dictate Jihad unless we submit . Right this minute non muslims are being murdered in the name of Allah as they were in Benghazi as they are in Nigeria Somalia and the USA ISRAEL UK EU CANADA SPAIN are all in the cross hairs .
Boston bombings suspect Dzhokhar Tsarnaev left note in boat he hid in, sources say CBS News, May 16, 2013 (thanks to Andrew Bostom)
(CBS News) Boston bombing suspect Dzhokhar Tsarnaev left a note claiming responsibility for the April 13 attack on the Boston Marathon, reports CBS News senior correspondent John Miller.

Sources tell Miller that Tsarnaev wrote the note in the boat he was hiding in as police pursued him, and as he bled from gunshot wounds sustained in an earlier shootout between police and his older brother, Tamerlan Tsarnaev.

The note, scrawled with a pen on the interior wall of the cabin, said the bombings were retribution for U.S. military action in Afghanistan and Iraq, and called the Boston victims collateral damage in the same way Muslims have been in the American-led wars. "When you attack one Muslim, you attack all Muslims," the note added.

Dzhokar said he didn't mourn older brother Tamerlan, the other suspect in the bombings, writing that by that point, Tamerlan was a martyr in paradise - and that he expected to join him there.

http://atlasshrugs2000.typepad.com/atlas_shrugs/2013/05/boston-jihad-bombers-motive-paradise-and-when-you-attack-one-muslim-you-attack-all-muslims.html


Main stream media cleans it up ( kinda like the Obama Administration
(CNN)

-- Boston Marathon bombing victims were collateral damage in a strike meant as payback for U.S. wars in Muslim lands, the surviving suspect wrote in a message scribbled on the boat where he was found hiding, a law enforcement source told CNN Thursday.
In the message, Dzhokhar Tsarnaev also proclaimed that an attack on one Muslim is an attack on all and said he would not miss older brother Tamerlan Tsarnaev -- who died after a firefight with police three days after the bombing -- because he would soon be joining him, according to the source.
The writing on the inside of the boat dovetails with what Dzhokhar, 19, told investigators questioning him in a Boston hospital room shortly after his capture, the source said.