This Horror is Now taking place in the UK(see below news)-- As it is NOT illegal to Cut your own Head -
-I am certain they are not // publically// cutting the heads of their children-That would be Child abuse- but it is being done behind closed doors. Look at the video and Pictures below!
Now- Aside from New Laws to Stop FGM
Here
Female Genital Mutilation in Our Countries because of ISLAM- We need Laws for this ! Why not STOP Immigrating this Ideology that goes against Humanity. Take Action NOW
http://www.usa.gov/Contact/Elected.shtml
Well its Not Ashura Day Yet.... but lets get a //head// start in acknowledging the day Muslims take a knife and bloodlet themselves and their Children- instead of Infidels..shall we?
this Year Ashura falls on December 5th -
Here is a Muslim in Lebanon Celebrating from last years Ashura Day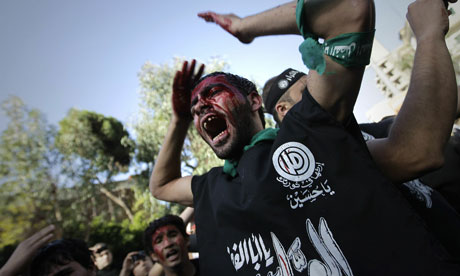 What is Ashura?.....
Ashura
Ashura falls on the 10th of Muharram, the first month of the Islamic calendar. For Sunnis, Ashura commemorates the exodus of Moses from Egypt, and is usually observed by completing an optional fast as practiced by the Prophet Muhammad. For Shias, it marks the anniversary of the tragic death of the Prophet's grandson, Hussein at the hands of the Umayyad ruler, Yazid. For Shias the day is marked with mourning and often enactments of the tragic event.
Hussein was the grandson of the prophet Muhammad, a fact that played an important role in his life and contributed to his death. His supporters – the Shia – believed that he was the rightful leader of the Muslim community, or ummah, because of his matrilineal descent. Sunnis, by contrast, believe that the caliph – or leader of the community – ought to be selected from those who are capable of leading.
Video above submitted by an American soldier in Afghan //Me and mem­bers of my pla­toon es­cort CNN cam­era crew on foot amongst tens of thou­sands of of­ten bleed­ing and sword-​wav­ing Iraqis dur­ing a bizarre Bagh­dad Fes­ti­val called Ashu­ra. This is where the Iraqi's cut their heads in re­penance for not com­ing to the aid of the 9th Imam when he was cap­tured and killed a long long time ago. I'd say it's time to move on. Tags:
iraq soldiers baghdad CNN Ashura//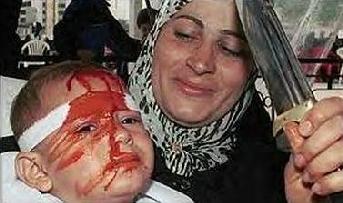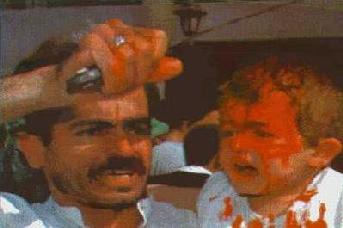 Yes its Now in the UK
Source for the Following
//Bare-chested men were left bleeding heavily during the ritual known as Matam – self-flagellation – which a witness described as being "like a scene from a horror film".
The Sunday Express found that up to 800 men performed the bloody ceremony in secret at the Imamia Mosque in Forest Gate, east London, last year.
The Math takes place during the annual Shia Ashura ceremony and commemorates the death of Husayn, a grandson of the prophet Muhammad. It is practised largely in Pakistan, Iran, Iraq and India as well as Yemen and Afghanistan but this is the first time it is known to have taken place in Britain.//